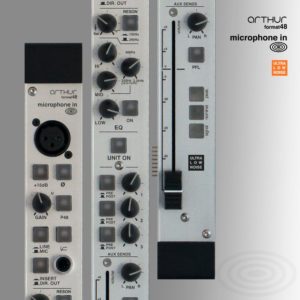 The Microphone In Ultra Low Noise (ULN) unit is designed for use with microphones that have a weaker signal (such as ribbon mics), as well as for professional recording applications where the lowest possible noise is required.
Featuring an improved Signal to Noise Ratio, with 4dB less noise, this mic input module adds further flexibility to the ARTHUR mixer.
All other features and specifications are as for the standard Mic Input Unit (Format48).
Technical Specifications
Input Impedance
4.7kohm
Maximum input level:
+4dBu (@1kHz ; THD <0.5%) (MIC MODE)
+26dBu (@1kHz ; THD <0.5%) (LINE MODE)
Maximum output level (trough L/R):
+27dBu (@1kHz ; THD <0.5%)
Gain range:
18 to 63dB (MIC MODE)
-9 to 20dB (LINE MODE)
Total Gain (trough L/R):
72 dB
Frequency response: (-3dB)
16Hz to 125 kHz
Low cut: (-3dB)
100 Hz (Shelving, 2nd order)
Reson attenuation:
10dB @ 150 Hz / 240 Hz
Low EQ:
460 Hz (Shelving) -20dB / +15dB
Parametric Mid EQ:
250 Hz – 3 kHz -15dB / +15dB
High EQ:
1.2 kHz (Shelving) -12dB / +12dB
Equivalent input noise (EIN):
128,7dB (Insert, 60dB Gain, 150ohm) (ULN model)
Distortion (THD+N; @1kHz)
-30dBu input level
0dBu output level:
0.13% (2nd harmonic)
0.06% (3rd harmonic)
0.015% (4th harmonic)
0.008% (5th harmonic)
Power consumption:
4W (80mA)
Size & Weight:
36x58x475mm ; 0,5 kg