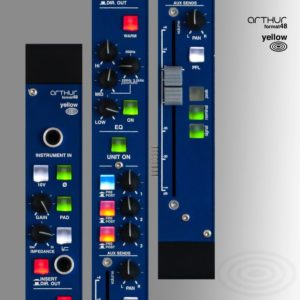 The unit's wide gain control and input impedance control (a novel feature) enables instruments to be directly connected to the mixer without external preamps, pedals or guitar amps.
YELLOW is similar to the Microphone Input unit, differing only in its input section:
The unbalanced phone plug input can receive signals from -42dbu to +9dBu. (A range of 51 dB, which therefore permits connection of any musical instrument pickup.)
The GAIN knob amplifies a weak signal to a nominal level of 0dBV, or attenuates a stronger signal, so that a nominal signal of 0dB is always present at the output of the mic input amp.
The VU level meters display the amount of Gain set. The headroom from input to output enables fairly strong overloads to be absorbed by the mixer's electronics, without producing distortion. Gain can therefore be set so that the red "overload" occasionally shows.
For active instruments with a very strong output, depressing the PAD button (green light) will attenuate the signal by 15 dB.
The 10V button delivers the necessary 10-volt supply for all SCHERTLER electrostatic pickups (STAT- and BASiK series), enabling direct connection to the unit without using the pickup's original preamp. The 10V button can also be used for connecting unbalanced electret microphones.
The PHASE button (ø) swaps the "hot" and "cold" aspects of the input signal, inverting the signal phase 180°. Helpful if a pickup is combined with a microphone (going through its own mic unit).
The LOW CUT button limits low frequencies at 100Hz/second order.
The IMPEDANCE knob changes the input impedance from 22k to 1M ohms, as the knob is turned from low to hi. For active instrument pickups it should be set to low. For magnetic pickups it should be set between the extremes. For piezo pickups it should be set to hi. Magnetic pickups in particular can benefit from a correctly adjusted input impedance.
The signal flow from input to fader (INSERT, EQ, CHANNEL ON / OFF, AUX SEND, PAN and PFL) is otherwise identical to that of the MIC INPUT unit. For further information, please read the Microphone Input Unit web page.
Technical Specifications
Input Impedance
variable from 20 kohm to 800 kohm
Maximum input level:
+24dBu (with PAD ON @1kHz ; THD <0.5%)
Maximum output level (trough L/R):
+27dBu (@1kHz ; THD <0.5%)
Gain range:
-42 to +9dB
PAD attenuation:
15dB
Frequency response: (-3dB)
5Hz to 50 kHz
Low cut: (-3dB)
100 Hz (Shelving, 2nd order)
Warm:
2 kHz (Shelving, 1st order)
Low EQ:
460 Hz (Shelving) -20dB / +15dB
Parametric Mid EQ:
250 Hz – 3 kHz -15dB / +15dB
High EQ:
1.2 kHz (Shelving) -12dB / +12dB
Distortion (THD+N; @1kHz)
-30dBu input level
0dBu output level:
0.11% (2nd harmonic)
0.05% (3rd harmonic)
0.012% (4th harmonic)
0.006% (5th harmonic)
Power consumption:
4W (78mA)
Size & Weight:
36x58x475mm ; 0,5 kg