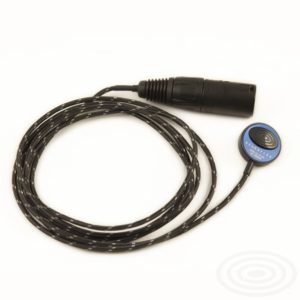 DYN-G-P48 is a fully balanced, active, dynamic contact microphone with Class A electronics. Suitable for use in both solo and orchestral environments, the microphone features state-of-the-art, in-house developed active filtering technology that enables it to capture the guitar's best tonal qualities. This leads to more "immediate" results for the user, making it possible to achieve amazing sound with only minimal adjustments.
The DYN-G-P48 has a sleek, lightweight design, making it inobtrusive to the player. The microphone is supplied with Schertler's own customized cable that is both robust and torsion resistant, designed to withstand the rigors of daily use while delivering best possible performance results. A balanced XLR connector enables direct connection into an acoustic guitar amp (that has phantom power and XLR inputs), or a microphone input on a mixing console. The microphone also works effectively through full range amplification systems.
The DYN-G-P48 can be easily and safely applied to even the most valuable of instruments using special adhesive putty. It can also be quickly transferred between instruments during performances or recording sessions. Note: This microphone requires 48V phantom power.
Schertler's flagship DYN Series contact microphones were first launched over 20 years ago. Two decades later, developments in microphone technology have enabled the series to be re-engineered to meet today's exacting requirements. The new DYN P48 Series retains the best features from the original DYN microphones while incorporating state-of-the-art technology that has resulted in even better sound quality, a more elegant lightweight design and more user-friendly operation.