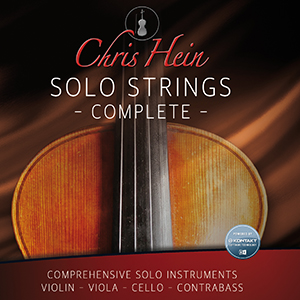 FREE Update adding 8 (!) new Instruments to Chris Hein Solo Strings!
Chris Hein Solo Strings Complete is an extensive Solo Strings Library including Chris Hein´s Solo Violin, Solo Viola, Solo Cello and Solo ContraBass – all recorded with greatest care and endless details, precisely edited and merged into a practical and musical instrument for NI's Kontakt Player.
Choose from a staggering 102 different attack shapes per note using the unique Note Head function, all with just a single fader. Two independent on-board convolution reverbs allow you to design the reverberant characteristics of  the body of the instrument and the performance environment separately. The DSP effects rack gives unlimited power to process the string sound, from soundtrack-ready to other-wordly.
The update will make Chris Hein's Solo Strings the most comprehensive collection of virtual string instruments you can buy in one package.
Solo Violin 1.2 now contains 2 violins – extended to 4 different violins
Solo Viola now contains 1 viola  – extended to 3 different violas
Solo Cello now contains 2 celli  – extended to 4 different celli
Solo Contra Bass now contains 1 bass  – extended to 3 different basses
Solo Strings Complete contains all instruments as listed above
The update is FREE for all registered users!