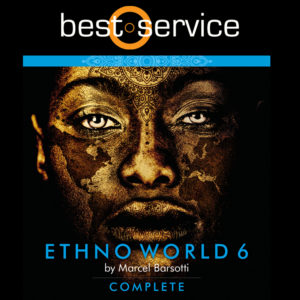 Best Service
Marcel Barsotti
ETHNO WORLD 6
The Ultimate Sample-library for Ethnic Instruments and Voices from all over the World
ETHNO WORLD 6 Complete is the summit of a library that has continuously grown and been improved over a period of 16 years. In this sixth edition, 80 new instruments and voices with a volume of 13 gigabytes have been added to the library.

Awarded film-composer Marcel Barsotti (e. g. Pope Joan, The Miracle of Bern) has gathered a gigantic selection of instruments from all over the word and has additionally recorded a wide choice of solo-voices and choirs from widely varying cultures.
ETHNO WORLD 6 Complete now consists of 320 instruments and voices being summarized in approx. 800 patches. For the most authentic sound, the instruments have been recorded with different play techniques that can be easily and precisely accessed from the patches by key-switches. The library consists of 33.4 gigabytes (uncompressed) of sample data and 28,789 samples. All instruments are delivered in a resolution of 24 bit and 44.1 kHz.