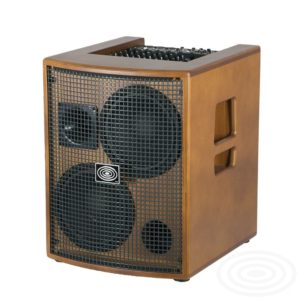 A highly portable cabinet that provides enough facilities for the most demanding of performers. Equipped with 1" horn and two 8" woofers, JAM 400 provides a full 400W of power.
A range of XLR, Jack and Phono inputs offers the potential for solo artists, duos and ensembles to perform using a single lightweight amplifier. The JAM 400's control surface provides an intuitive yet comprehensive mixing facility for easy set-up and on-stage adjustments during performances. Advanced features such as switchable subwoofer output, variable anti-feedback control, phantom power and multiple digital effects are included.
An integrated switchable crossover enables the addition of an active subwoofer to create a full 3-way active system capable of providing huge reserves of power for any musical situation.
Effect list for the JAM 400:
FX1: Delay (125ms slapback delay for vocals and guitar) FX2: Chorus/Room (Chorus with reverb for guitars, synths, and pianos) FX3: Hall (Warm hall for acoustic guitars, pianos, and vocals) FX4: Hall (Bright hall reverb for drums, guitars, and vocals) FX5: Plate (Short vintage plate reverb for snares and guitars) FX6: Plate (Classic plate reverb for lead vocals and instruments) FX7: Room (Ambience for acoustic mixes and synth sounds) FX8: Plate (Sizzling bright plate reverb for vocals and drums)
Technical Specifications
| | |
| --- | --- |
| Weight | 21 kg (46.29lb) |
| Dimensions | 37x49x43cm (14.56×19.29×16.92 in) |
| Frequency Response | 60 Hz to 18 kHz (+/-3dB) |
| Speakers | 1" horn, 2×8" woofer |
| Construction | Plywood |
| Channels | 3 channels, 2x stereo, CD in |
| Outputs | Rec out, DI, Aux, SW out |
| Phantom Power | 48V on all XLR inputs |
| Effect | Digital reverb multi effect, effect loop possible |
| Preamp | Class-AB |
| Power | 400W Bi-amplified (Class-D) |