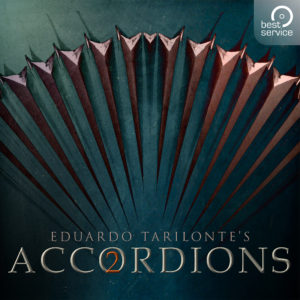 The most comprehensive Accordion Collection ever
Ever since its release Accordions has become the first choice when it comes to ultra-realistic and above all, playable accordion libraries. Like its predecessor Accordions 2, has been produced by Eduardo Tarilonte and features not only double the content, but also a completely revised user interface as well as premade rhythms for the left hand.
Accordions 2 has 3 different dynamics and 3 round robins, all instruments has been recorded chromatically with the pristine sound of a U47 microphone. Even subtle sounds from an accordion, like key and button noises, were carefully captured to increase the realism of your performance.
All users that have registered Accordions (1) may purchase an upgrade for the price of € 79.-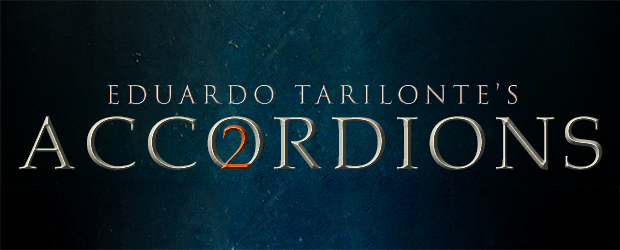 Accordions 2 consists of 13 painstakingly sampled Instruments:
•  French Musette Accordion: A true french musette accordion if you are looking for the beautiful Parisian sound.
•  Steirisches Accordion (both hands): The accordion sound from the alpine folk music of Austria, the German state of Bavaria, and the Italian South Tyrol among others.
•  Vibrandoneon: A beautiful hand crafted melodica, 3 registers included.
•  Bass Accordion: A deep bass accordion intended to play low registers in the accordion orchestra.
Concert Accordion (both hands): A wonderful Pigini concert accordion with 15 registers. Includes left hand basses.
•  Folk Accordion (both hands): A Mengascini accordion perfect for folk music with 5 registers. Includes left hand basses.
•  Bandoneon: An Alfred Arnold bandoneon with just a few serial number ahead of the one that Astor Piazzolla played all around the world. The true sound of tango.
•  Concertina: The sound of the sailor songs
Additional Accordions: Single Reed Piccolo Accordion, Single Reed Musette Accordion, Single Reed Bassoon Accordion, Double Reed Musette Accordion and Left Hand Bass Accordion.
Features Overview:
•  Over 8.000 samples
•  13 Instruments in total
•  3 Kinds of bellow shake
•  Premade rhythms for the left hand
•  3 different dynamics and 3 round robins
•  Key and button noises for ultra-realistic Perfomances
•  Recorded chromatically with the pristine sound of a U47 microphone Advanced but easy to use Kontakt scripting signed by Günter Hirscher
Accordions can be used in many different kind of productions and styles. From cinematic, romantic to folk styles like Celtic, Tex-Mex or South American.

Endorsements


Rupert Gregson-Williams
Hollywood Soundtrack composer: Disney's Bedtime Stories, Bee Movie, Over the Hedge, Made of Honor…
"Eduardo Tarilonte has done it again! Very few sampled instruments have been researched and programmed to make the performer feel so in touch (except perhaps the Celtic and spiritual wind collections Eduardo has produced before…) These accordions are a must for anyone wanting to play the instrument in an authentic way. The tone is fabulous – Eduardo chose a wonderful instrument to sample and he has created the perfect virtual accordion."


Pedro Macedo Camacho
Game composer: A Vampire Story, Ghost Pirates of Vooju Island, Fury…
"Eduardo Tarilonte has consistently been providing me the most expressive and realistic solo instruments I have ever had the pleasure to compose with. In Accordions, once again, the tone in each patch is simply perfect and with an unmatchable playability. It simply sounds and feels perfect out of the box."


Bill Brown
Soundtrack and TV Composer, CSI: New York TV series, Wofenstein,The incredible Hulk, Ultimate Destruction, Command and Conquer….
"Eduardo's Accordions library takes accordion sampling to the next level! I was concerned that the patches wouldn't be expressive enough for the film music I'm working on currently, as I'm using a lot of live instruments… But these patches are totally expressive and organic! I'm able to create a very realistic mock-up… and whether dry or through multiple effects, it is totally working in the mix…"


Jesper Kyd
Assassin ́s Creed, Borderlands, Splinter Cell, Hitman, The Resistance Series…
"Accordions is the most realistic and playable accordion library out there. The superior sound quality means it blends perfectly with my palette of instruments."


David Arkenstone
With 3 Grammy nominations, 20 Billboard hits, and millions of fans worldwide, David Arkenstone has established
himself as one of the best contemporary instrumental musicians of our time. Arkenstone was also a member of the composing team who developed the music for Blizzard Activision ́s World of Warcraft videogame's Cataclysm expansion.
"Eduardo ́s beautiful sample libraries enhance the spirit of my music. They are full of unique inspiration."


Jack Rubinacci
Touring with Arcade Fire, Joe Cocker, The Dixie Chicks, Lionel Richie, The Script
"Having worked with one of the most successful accordion producers in Belgium on my last record, I searched hard to find an accordion sample library to work with on my next record. The Accordion Library by Best Service is simply the best on the market bar none."
Reviews
Requirements
The latest NI Kontact Player is included in this product!
The minimum Kontact Player version to use this library is specified in the product description.
Download latest free Kontakt Player Windows (~ 450MB)
Download latest free Kontakt Player Mac INTEL (~ 600MB)
You want more? 
This library qualifies for the reduced cross-grades of full KONTAKT at Native Instruments ($249 instead of $399)
________________________________________________________
Windows
Windows 7, 8.1 or 10 (latest service pack, 32/64-bit)
Intel Core 2 Duo or AMD Athlon 64 X2, 4 GB RAM (6 GB recommended)
Mac
Mac OS X 10.10, 10.11 or 10.12 (latest update)
Intel Core 2 Duo, 4 GB RAM (6 GB recommended)
for all
1GB free disc space for player installation
additional hard disk space according to the library size
Internet connection for product activation required (on any computer)
SUPPORTED INTERFACES
Stand-Alone
VST
Audio Units
ASIO
Core Audio
WASAPI
AAX native (Pro Tools 10 or later)
Player legacy downloads – please check compatibility with your libraries!
Kontakt Player 5 5.3.1 Win  ( Win 7 or higher)
Kontakt Player 5 5.3.1 Mac (OS X 10.7 or higher)
Kontakt Player 5 5.1.0 Win  ( Win XP or higher)
Kontakt Player 5 5.1.0 Mac (OS X 10.7 or higher)
Kontakt Player 5 5.0.3 Win  ( Win XP or higher)
Kontakt Player 5 5.0.3 Mac (OS X 10.6)
Kontakt Player 4 4.2.2 Win  ( Win XP or higher)
Kontakt Player 4 4.2.2 Mac   (OS X 10.5 / 10.6)
Product Activation:
This product requires Native Access for installation, registration and activation. Start the Native Access Software and log in using your Native Instruments credentials to start the setup.
To successfully activate your product Native Access requires a working internet connection.
Offline Activation is not available with this product.