Virtual Chinese Dizi Instrument
The Dizi is a Chinese flute-like instrument made from the bamboo stem. Unlike similar instruments, the dizi has a membrane made of bamboo that vibrates with the airflow, making up its uniquely clear and bright sound. The dizi is an incredibly expressive instrument. In addition to its smooth and beautiful melodic sounds, the dizi can be played with a variety of playing techniques, such as fast finger popping, tongue fluttering, and airflow vibrato, allowing the dizi to play the most challenging solo parts.
Features Overview
Adjustable Sound Field – During the recording of the samples, 10 microphones were used in different positions to capture the room and reverb characteristics. All channels were mixed down to four which you can adjust in the user interface.
Authentic Performance – By controlling the airflow and fingering, the Dizi offers a variety of performances such as mordent, finger pole popping, trill, flutter, vibrato, staccato and gliss. All of these performances can be triggered from within the GUI.
Realistic Expressions – Whisper of Loong features realistic recorded articulations that can be freely controlled. Using MIDI CC, tone changes can be implemented as in a real Dizi performance.
Gliss – With three different speeds of real gliss samples and a sample synthesis technique, Whisper Of Loong can perform gliss at any adjustable speed.
Vibrato Engine – Based on real samples, Whisper of Loong´s LFO engine allows realistic and adjustable vibrato.
Sampling Engine – The self-developed sampling engine features the best sound quality, powerful disk buffer streaming/sampling compression technology and sound fusion technology.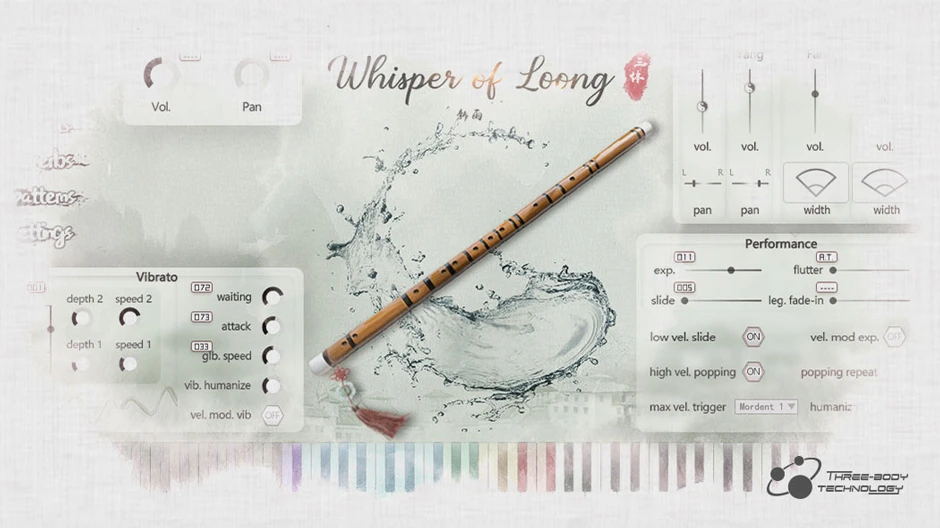 Legato – The sound between legato notes was recorded in two speeds and is applied in the software according to the playing speed. In addition a "popping legato" specific to Chinese Dizi have been recorded.
Convolution Reverb – Whispers of Loong contains convolution reverb samples of spectacular locations as well as famous Chinese natural and historical monuments.
Effects Rack – Compressor, EQ, Chorus and Ping-Pong Delay for shaping the sound of the Dizi to your liking.
Pattern Library – Whispers of Loong provides you with a pattern library that allows you to easily realize your works and ideas. You can also create your own patterns by dragging in MIDI clips.
Presets – Various presets from Chinese traditional to experimental to the edge.
Requirements
Intel or AMD CPUs with SSE 4.1 instruction set.
Mac OS X 10.9 / Windows 7.
4GB RAM and 2GB disk space.
Plugin Formats Provided:
Windows: 32-/64-bit VST2, 64-bit AAX
Mac: 64-bit VST2, Audio Unit and AAX
Extra Requirements on Specific Hosts:
Logic Pro X or higher (Logic 9 is not supported)
Only 32-bit VST was supported in Cakewalk Sonar 8.5
Product activation:
An internet connection is required to authorize / activate the product.